Dog Boarding Flagstaff
Want your pet to have a home away from home while you travel? Be treated like royalty? Be loved by a team of trained experts? Have fun-filled, happy days while you're gone? Then you're in the right place! Our facility has been customized to suit your family member's needs. And don't worry, we customize your boarding so you don't pay for what you don't need! Necessities have always been included in our pricing model!
Our experience has shown that about 30 to 40 percent of our guests have the need and/or desire to have more exercise than the inclusive activities within our base boarding rates. We don't charge a higher boarding rate to everyone when everyone doesn't need nor desire extra activities! We don't charge extra for holidays or high occupancy periods nor will you ever pay resort fees! The price you see is the price you pay...period!
What Makes Cinder Hills Different?
Day Boarding (Not Staying Overnight) · $33 per day (Half day option available for $23)
Service includes complimentary one-on-one playtimes in the yard. This includes ball and frisbee time, chase, playground paw-ness, agility time, locally made treats, and playtime in one of three bone shaped pools (summer)!
Excellent alternative for those guests who do not like playing with other dogs. (If you are looking for group play, see our Playful Paws Day Camp under Activities.)
---
Dog Boarding Accommodations
Our Classic Runs, Junior Suites and Cottage Suites are spacious, comfortable and relaxing. Take comfort in knowing that here at Flagstaff's best boarding facility, when we say "Suite" it is truly a Suite and not just another enclosure with a different name to it! Every guest has an indoor/outdoor run so they can take a break at THEIR convenience - no worries about relying on us to take a potty break! We have the largest enclosures available in all of Northern Arizona so your pet can enjoy luxury at its finest!
Click here to check out our deals!
---
Cottage Suites · $80 per dog per day ($8 Discount for Multi-Dogs in Same Suite)
356 Square Feet Minimum
Chainlink-free Enclosures
Privacy Fencing
Raised Kuranda Beds
Individual Playtimes in Facility Yards Included
Indoor / Outdoor
Quiet Environment
Climate Controlled
Live-in, On-Site Caretakers
Fresh Water at All Times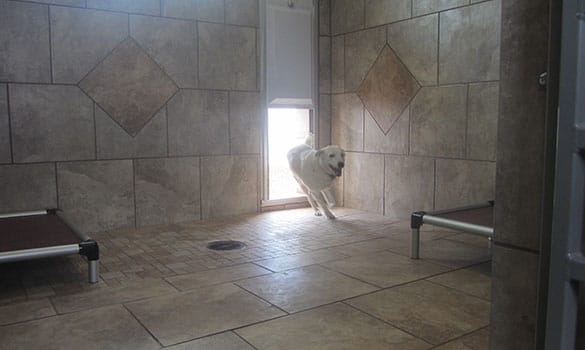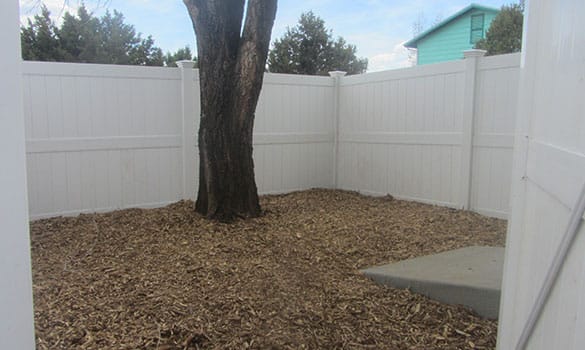 ---
Junior Suites · $70 per dog per day ($8 Discount for Multi-Dogs in Same Suite)
135 Square Feet
Raised Kuranda Beds
Outside Covered Patio
Semi-Private
Individual Playtimes in Facility Yards Included
Chainlink-free Enclosures
Indoor/Outdoor with Insulated Doggie Door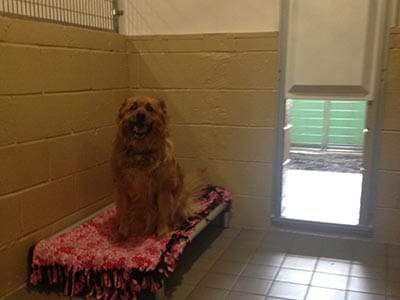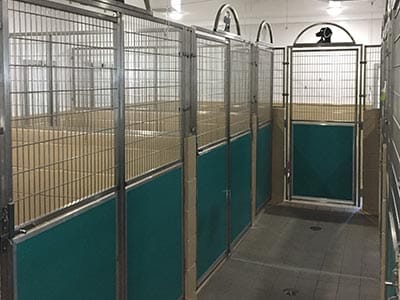 ---
Classic Dog Boarding · $60 per dog per day ($8 Discount for Multi-Dogs in Same Suite)
Up to 76 Square Feet
Indoor / Outdoor
Semi-Private Indoor Area
Individual Playtimes in Facility Yards Included
Climate Controlled
Live-in, On-Site Caretakers
Fresh Water at All Times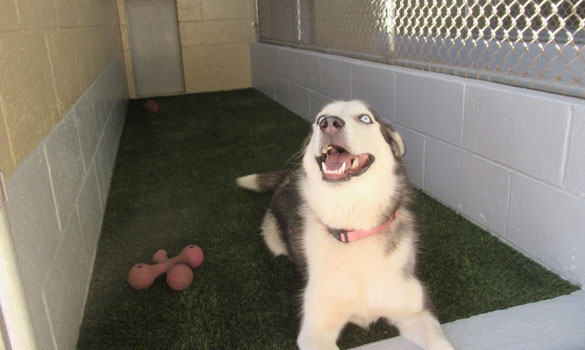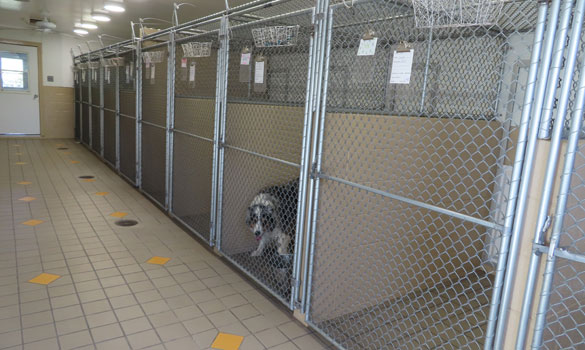 ---
Cat Boarding Accommodations
Our feline guests have their own cat condo in a dog-free section of our facility for a safe and relaxing environment. Cats enjoy perches and a window to enjoy the view.
Cat Condos · $36 per cat day ($3/cat Discount for Multi-cats in Same Condo)
Perches in Each Condo
Playtime Included
Tree Houses & Toys Included
Quiet Environment
Climate Controlled
Live-in, On-Site Caretakers
Fresh Water at All Times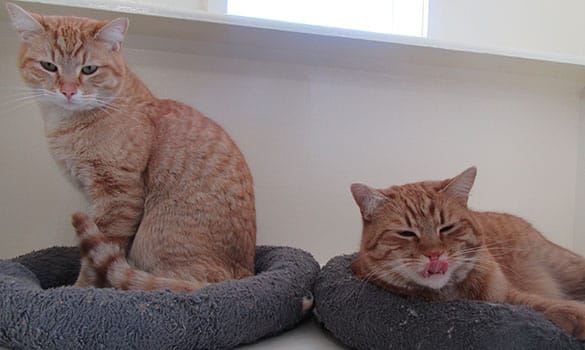 ---
What to Expect
7:30AM: Good Morning
Our day begins at 7:30 AM, when we open the dogs up to the "outside" portion of their run. The dogs and cats are fed and watered, and litter boxes are cleaned.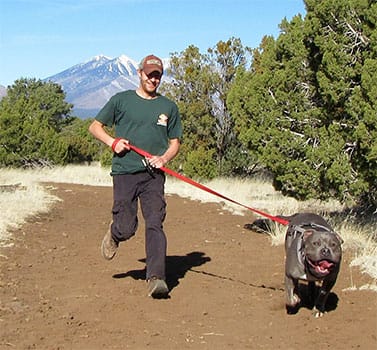 8:30AM: A Day of Fun & Activities
Now the fun begins! Our staff members will split up and engage our guests in activities and playtime. We believe that pets need to be actively engaged to stay happy and healthy, so our staff is scheduled to maximize interaction throughout the day.
Some dogs may enjoy our Fun in the Forest Hikes, while others will have Individual Playtime in our yards. Cats will bask in one-on-one playtime in our Purring Parlor. Daily one-on-one playtimes with our staff are included in the boarding price at Cinder Hills! Our "Playful Paws" Day Camp, for dogs who enjoy social interaction with their pals, runs throughout the day. We also include some much needed rest periods.
We continue this routine of rotating guests until the office closes for the day. The dogs are then locked securely inside their indoor portion (and cats locked in their private condos) when the sun starts to set.
8:30 PM: Good Night
We open the dogs back up and let them have one last chance to "do their business" before bringing them back in and saying goodnight. All guests receive their last complimentary treat of the day. This means your pet is only locked inside from about 9:30 PM until 7:30 AM! Of course, Cinder Hills is the only Flagstaff kennel in which the owners care enough to live onsite!
We do provide complimentary treats throughout the day unless you direct us otherwise. Photos of our guests are taken daily and posted on Facebook, so "Like" us on our page to ensure you don't miss out!
---
Bedding, Belongings, & Toys
Pet bedding is available for each guest at no additional cost. You are more than welcome to bring food, treats, toys and bedding. We just ask that their bedding is machine washable and contains no foam rubber. Bedding from home is a "security blanket" for many dogs as it is something familiar for them! Please do not bring food dishes or water bowls. Collars/leads aren't necessary unless someone else is picking up your pet. Please make sure all belongings and food containers are labeled appropriately with your pet's name prior to check in.
---
Vaccination Requirements
Canine Guests: Rabies, Distemper/Parvo combination, Bordetella (given every 6 months), Lepto is not required but strongly recommended if your dog has been to an area of potential exposure and/or your veterinarian recommends it.
Feline Guests: Rabies, Distemper; Leukemia not required
Although currently not required, we strongly recommend that you have your family member on a heart worm preventative program as well as treated for fleas and ticks. Local veterinarians have informed us that Flagstaff does indeed have fleas/ticks and we all know that mosquitos can be present (especially on the west side of town).
Bring a copy of your vaccination records from your vet or have them faxed to (928) 526.3812.
---
Check Out Policies
Checkout time at Cinder Hills is 1:00 PM. Pickup after 1:00 PM and before closing incurs a $32 per dog and/or $15 per cat fee. Pickup after closing incurs another day's boarding fee plus the after-hours pickup charge of $45/pet.